Pinacle Manpower/HR Solutions
As a part of continuous improvement in executing projects, we always attempt to provide value added services to our clients. It is our privilege to offer tailor made services package to our valued customers, thoroughly understanding the individual needs. And that is why; we have created a team of highly competent and experienced personnel to deploy at client's work place.
While we continue the Engineering Services business as existing, we are introducing the HR Services under the brand 'Pinacle HR Solutions' - creating a distinguished identity. Pinacle HR Solutions is focusing on the most critical resource 'Manpower' out of 3M's - Man, Materials, Money of Business Management.
Our Services:
Recruitment
Manpower Deputation
Outsourcing
Placement
Operation & Production Team
Commissioning
Maintenance Team
Our Services:
No complex and lengthy process of recruitment. Short listed candidates according to the requirements of clients will be mobilized.
Flexibility
Replacements, if required by the client is done during the currency of the contact, unlike permanent employment.
No statutory obligations. All statutory requirements like Licenses, PF, ESI, Insurance etc. are taken care by us.
Availability of Skilled/Unskilled manpower for specific jobs, short duration etc.
Trained and Experienced workforce from similar industries.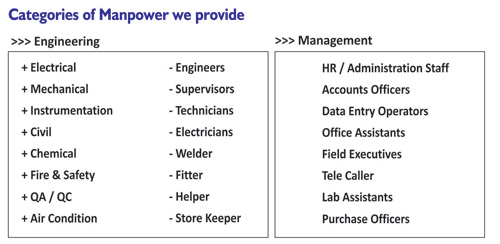 Our Services